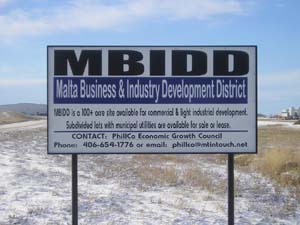 The Malta Business and Industry Development District (MBIDD) is located in the City of Malta, the county seat of Phillips County.
The former airport site features 133 acres, with 9 lots available for commercial and light industrial development. (See MBIDD Brochure)
The MBIDD is owned by the City of Malta and managed by the PhillCo Economic Growth Council. PhillCo has a 99 year lease agreement with the City of Malta which allows PhillCo to sell/lease lots as needed to businesses that support economic development in Phillips County.
Electricity is provided by Northwestern Energy and natural gas by Montana-Dakota Utilities. Water , sewer and waste disposal services will be provided by City of Malta. Opportunity Drive provides direct and easy access to US HWY 191. Access to US HWY 2 and Burlington-Northern Railway are less than one mile away. Malta has daily services with UPS, Fed-Ex and truck transport .
For more information about MBIDD, see the MBIDD Brochure. To inquire about lot availability, contact PhillCo at phillco@itstriangle.com or 406-654-5525.